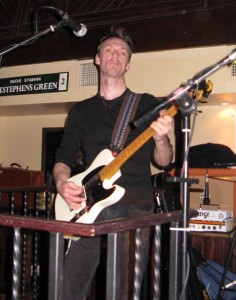 The grandaddy of them all, the humble Telecaster, and what a great instrument it is. Bereft of anything unnecessary, designed to function and perform, in all honesty probably the greatest electric guitar ever conceived. 
Although I have other axes, great to play and admirable in they're own right, for some reason I always revert back to the Tele, and in particular the afore mentioned Squier Classic Vibe 50's Telecaster. 
I got turned on to this Squier when they we're first being discussed over at the TDPRI Forum – a great resource for all things Telecaster and beyond, and a wealth of knowledge is there at your fingertips. 
This particular example I picked up new at the time for a mere £225 in 2008, and was literally stunned when I opened the box and played it. Nothing fancy, but still pleasing to the eye, it felt solid and performed great. Set up is fantastic, this is a bulletproof guitar, and has served me well over hundreds of gigs from pubs, clubs, festivals and Scottish rock weddings. I rate it so highly I sold my USA Strat soon after! 
Why is it so good, and how come a Squier continues to be one of my main guitars? Because it's so well built and of course – it's a Telecaster, the personification of design and function. Build one well and you simply cant go wrong. 
It's been through all the mods under the sun, pickups, necks, pickguards, esquires etc, but like the T-1000 from Terminator 2, it keeps morphing back to it's stock build! 
Usually it's best friends with my Orange Tiny Terror (good forum there also), a single channel amp, no pedals, just plugged strait in and controlled with the Tele's volume and tone knobs – simple perfection. Totally reliable at gigs, fast set-up and nothing to get in the way of playing, bliss. 
Sure, there's other great Telecasters out there, I even own a few Fender's and all, but this has become my old faithful, a real workhorse. The Squier Classic Vibe Telecaster is flat out superb, and you'll have to prize mine out of my cold dead hand!